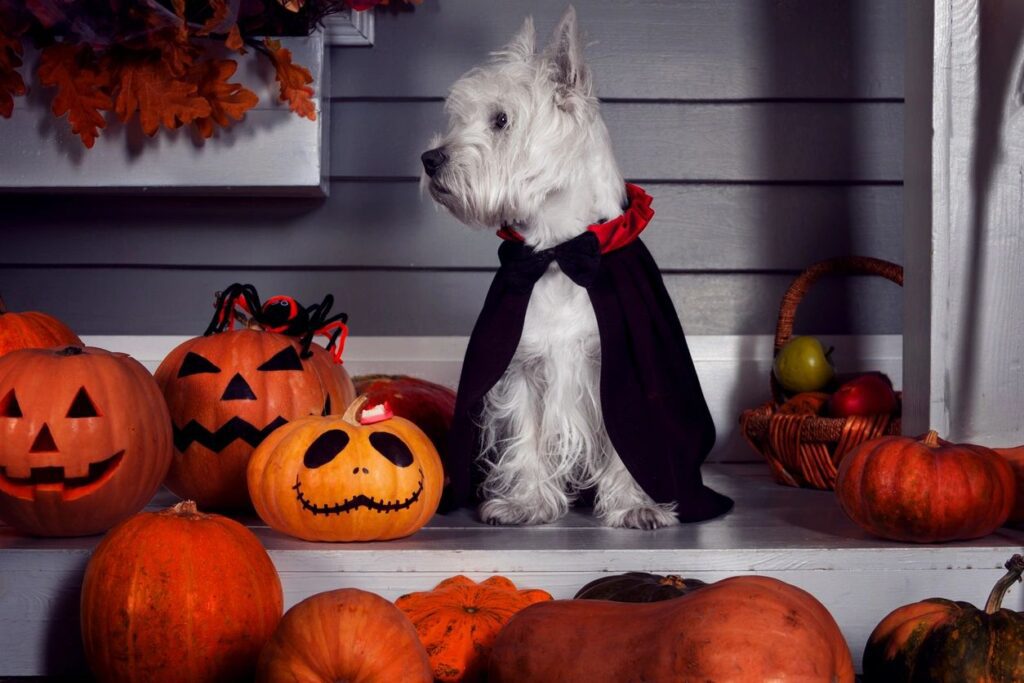 Halloween is approaching. The enthusiasm for it grows each year, at least in my neighborhood. Pretty scary out there! No matter how much you love this holiday (or not), it is important to recognize there are some unique safety issues associated with it. It also shares safety concerns with many other holidays, including the imperative that before you plug in any light strings, make sure you look for a product safety certification mark from a NRTL testing laboratory and check to confirm that the string is in good condition. Covid19 safety has risen to the top of the list! Safe hygiene practices are a must.
Overall, the unique attributes of Halloween have to do with costumes and masks, especially combined with children and adults wandering about at dusk and night when they are least likely to be seen. Add to that, children visiting homes and acquiring food from people they might not even know. The good news is that there are many federal agencies, as well as safety organizations, that offer great advice. Do your research, as this post will certainly not cover every safety tip for Halloween. The lists you'll see below are based on (but are not identical to) a referenced agency's or organization's recommendation, so click through to read their sites.

The National Safety Council appears mostly focused on certain aspects of costume safety, responsible "trick or treating," motorist safety and preventing the spread of the Covid19.
SAFE HYGIENE PRACTICES. Mask up (not talking about Halloween costume masks), maintain social distance and wash your hands.
ALL COSTUMES, WIGS, AND ACCESSORIES SHOULD BE FIRE RESISTANT.
MAKE SURE CHILDREN CAN BE SEEN, ESPECIALLY AT DUSK AND AFTER DARK. Fasten reflective tape to their costumes and bags, or give them glow sticks. Did you know…Children are more than twice as likely to be hit by a car and killed on Halloween than on any other day of the year? This should concern you greatly whether you are a child, have children and/or are a driver. Lack of visibility because of low lighting at night plays a factor in these incidents
MOTORISTS: BE ALERT. Children and adults may be wearing dark clothing and, at dusk and later in the evening you might not see them. Enter and exit driveways and alleys very carefully. Discourage new, inexperienced drivers from driving on Halloween.
BE AN ADULT AND SUPERVISE YOUR CHILDREN. If your younger children are going out on neighborhood rounds, accompany them. Your older children should follow and stick to a previously established route that you approve. Teach your children never to enter a strangers home or car, to say in well-let areas, and to stick with their friends.
FOOD IS TO BE EATEN AT HOME, ONLY. Bring the stash home, no snacking along the way. You need inspect their treats and to avoid any food allergies.
PUT THE PHONE DOWN, KEEP YOUR HEADS UP AND WALK, DON'T RUN, ACROSS THE STREET. Adults and children must know this.
Not surprisingly, the FDA (Food and Drug Administration) is mostly concerned with safe hygiene practices, costumes, cosmetics, candy, and eye safety — particularly, colored contact lenses.
MAKEUP IS PREFERRED TO COSTUME MASKS. The FDA is concerned that masks can obsure vision, especially if they don't fit well.
TEST THE MAKEUP. Lots of people have allergies to makeup. Best to find about that in advance of Halloween. Put a small amount on the arm of the person who will be wearing it. If a rash, redness, swelling, or other signs of irritation develop where the makeup was applied, that's a sign of a possible allergy.
BEWARE OF DECORATIVE (COLORED) CONTACT LENSES. Halloween is not a good time to start wearing contact lenses. It's illegal to sell decorative contact lenses without a valid prescription. Without a prescription, the FDA advises that this can lead to significant risks of eye injuries, including blindness.
FOOD SAFETY TIPS. Most of their tips are worth a look here. Oddly, they have instructions for "bobbing for apples." Can't imagine how this survived the FDA review in 2020/21. So, let's just put it this way: NO BOBBING FOR APPLES, see "safe hygiene practices."
The CPSC (Consumer Product Safety Commission) also has some very useful safety advice for Halloween within their bailiwick. See their Make Safety a Treat campaign.
PUMPKIN CARVING – ADULTS ONLY! Children can grab a spoon and scoop out the inside, or design the pumpkin. The CPSC says that 48% of the Halloween injuries treated in US hospital emergency rooms arose during carving. Let the kids design the pumpkin and the adult carve it.
STAY AWAY FROM CANDLES: Use battery-operated lights or glow sticks instead of open-flame candles. If you use candles, keep them away from curtains, decorations and other combustibles that could catch fire. Never leave burning candles unattended.
BE CAREFUL WHEN HANGING OR REMOVING DECORATIONS: Use a sound ladder (I recommend that all ladders have safety certifications from a NRTL testing laboratory) when hanging or removing decorations.
LIGHT STRINGS SHOULD BE CERTIFIED FOR SAFETY. Use light strings that have been tested for safety by a recognized testing laboratory (such as UL, Intertek/ETL, CSA and others recognized by OSHA).
COSTUMES SHOULD FIT WELL AND BE FIRE RESISTANT. We're talking about avoiding trips and falls, but also avoiding contact with flames/fire. Costumes made of polyester or nylon fabric, and not sheer cotton or rayon fabric, reduce the hazard.
WEAR THE RIGHT MASK. Halloween costume masks are not designed to prevent the transmission of COVID19 — not even those spooky hockey masks. Unless you specifically bought a KN95 Halloween mask–and what a great idea that is — wear a mask. Protect yourselves, your children, and your community. As a homeowner in neighborhood where children love to go trick or treating, there will be a sign on my door — "no mask, no treats." Who wants to open their home to The Pandemic?

Finally, remember, the safest homes for your children to visit for "trick or treat" are the ones where your family friends live, and your children are most safe when you are there with them.

Halloween — a good time to mask up!